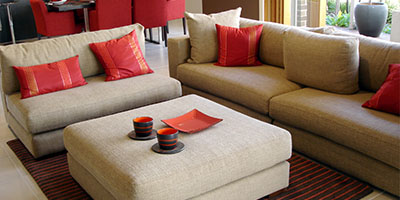 Our expert fabric and upholstery cleaning technicians are trained and experienced in cleaning all types of upholstery including leather. Our process also works on mattresses. After inspection, the proper technique required will be determined. The most common method used is our safe and gentle hot water extraction method; drying time is usually within 1-2 hours. Certain fabrics may require alternative methods.
We will gently remove soil, body oils and dust from your upholstery. Our technician can apply a deodorizer to your upholstery to eliminate odors from smoking, cooking, pets, body oils, food spills and other potential odors present in your upholstery.
After we have restored the appearance of your upholstery, we offer 3M Scotchguard to protect your upholstery from both oil and water based stains. 3M Scotchguard protector helps resist soil and allows spills to be blotted up before staining. 3M Scotchguard will keep your upholstery cleaner longer.
With their experience and ongoing training, your fabrics and upholstery are in good hands with the technicians at All Surfaces.
Additional Cleaning Services